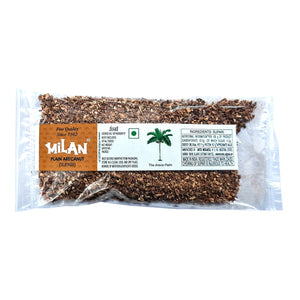 Enjoy the original
Supari is India's favourite indigenous mouth-freshener. We eat plain supari, sugandhi supari, chikni supari and paan supari among many others. But supari or arecanut has been a part of all South-East Asian lifestyles for centuries. Often called betelnut because it is consumed with paan, supari has found its way from our diet into our culture and lifestyle.

Though supari is common all over the region, no nation loves supari as much as we Indians do. It's no wonder then that supari is cultivated over thousands of acres of land in India. And, ages of experience in growing supari have made Indian supari one of the most valuable in the world.

Our products contain ingredients like supari (areca nut/betelnut), spices, sugar, natural edible food colour, and a variety of natural foods that are bountiful in nature and which have various digestive, mouth-cleansing and breath-freshening properties. These ingredients also have varied applications in traditional medicine like in Ayurveda, in Siddha and in Unani medicinal systems.

Most importantly, we would like our consumers to know that we do not use any tobacco or nicotine in our products in any way or form. 

So whether you're enjoying a break from work or spending time with family and friends, you can enjoy Milan Supari products anytime, anywhere!
Label on Product:
FSSAI License No. 10714025000147. 
100% Vegetarian. 
Manufactured by: United Mercantile, at 16, Sai Industrial Estate, Karwad, Vapi 396195, Gujarat. 
Customer Care Cell: unitedmercantile.co@gmail.com. 
This multi-piece package contains 60 sachets.
Net Wt. 100g for 1 packet. 
Maximum retail price ₹85/- per packet.
Pack of 5  ₹425/-
Inclusive of all taxes. 
Made in India. 
Registered Trade Mark 234353.
Imitation of Trade Mark is a punishable offence.
Store in a clean, cool and dry place.
Beware of imitation and duplicate goods. 
A Proprietary Food Product. IFC: 15.2. Allergen information: Tree Nuts (Supari) 
Nutritional Info per 100g of product
CARBOHYDRATE: 63.9g. (OF WHICH SUGAR: 0.2g)
 ENERGY: 386.3 Kcal
FAT: 7.1 g.,
PROTEIN: 16.7 g
APPROXIMATE VALUE 

Best before 12 months from packaging.  
Supari products might not ship to locations in Maharashtra on account of certain restrictions. Orders might be cancelled and amount shall be refunded in full. Replacement products of Mouth Fresheners can also be sent. Please call or WhatsApp us on 09821619524 to know more.
The product images shown are for illustration purposes only and may not be an exact representation of the product.